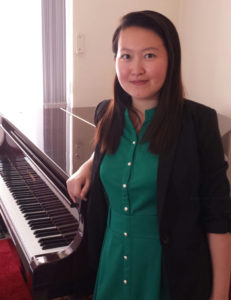 Ira is a passionate piano teacher, theory and musicianship. She has 19 years of teaching experience and is an accredited music teacher. 
Ira loves having her students play in duet and trios, sometimes quartet when her energy allows. She loves teaching and cannot see herself doing anything else. She enjoys watching her students grow in music and become passionate musicians themselves.
Many of Ira's students will tell you that she is funny and kind. These qualities are some of the reasons why her students have loved coming to their piano lessons and practicing.
Ira also teaches AMEB exams, and she helps her students prepare for Music Scholarship at their schools.
Ira sees herself an expert in teaching music theory and musicianship. She has taught many students theory lesson up to grade six.
Ira has a very nice teaching studio in Hillsdale where she has two pianos, one grand, and one upright.
On a personal note, at the moment Ira enjoys practicing Beethoven Sonata and aims to play the entire collection Beethoven's Klaviersonatas.
Ira cares greatly and contributes to various charities organisations such as Childfund, Every day hero, Cancer Council NSW.
Email : iraspianostudio@gmail.com
Phone: 0432 272 607